Looking for the Best 2018 iPad Pro 12.9 Case?
Meet the Gen 3 iPad Pro 12.9 Folio
So you just got a new, 3rd generation iPad Pro 12.9 and are looking for the best case to match. it You've come to the right place. MacCase has been making iPad cases since Steve Jobs introduced the first one back in 2010. Not only that, we invented and Apple specific case market in 1998. We know a bit about protecting Apple portables.
Our 2018, gen 3 iPad Pro case is the best available due to it unparalleled combination of handmade quality, timeless, professional design, exquisite functionality and your ability to customize the case to meet your needs.
Our groundbreaking Magnetic Accessory System offers the ability to add functionality when you need it and remove it when you don't. Spend a moment and learn about our unique approach to iPad protection, our design process and our commitment to delivering the world's best case for the 2018 iPad Pro 12.9.
Why Choose Our 2018, Gen 3 iPad Pro Case?
• Custom designed specifically for the 3rd generation 12.9
• Quality you can believe in: Handmade from some of the finest hides available
• Provides the elegant and professional solution for Apple tablet protection
• Is the antithesis of all the low quality, disposable cases being peddled everywhere else
• Designed by the person that created the Apple- specific case market in 1998
• 4 optional accessories allow you to customize your case to meet your needs
• Limited lifetime warranty
• Unparalleled customer service: Have a problem? Call and speak to the boss.
What Customers are Saying
( Actual customer Folios shown )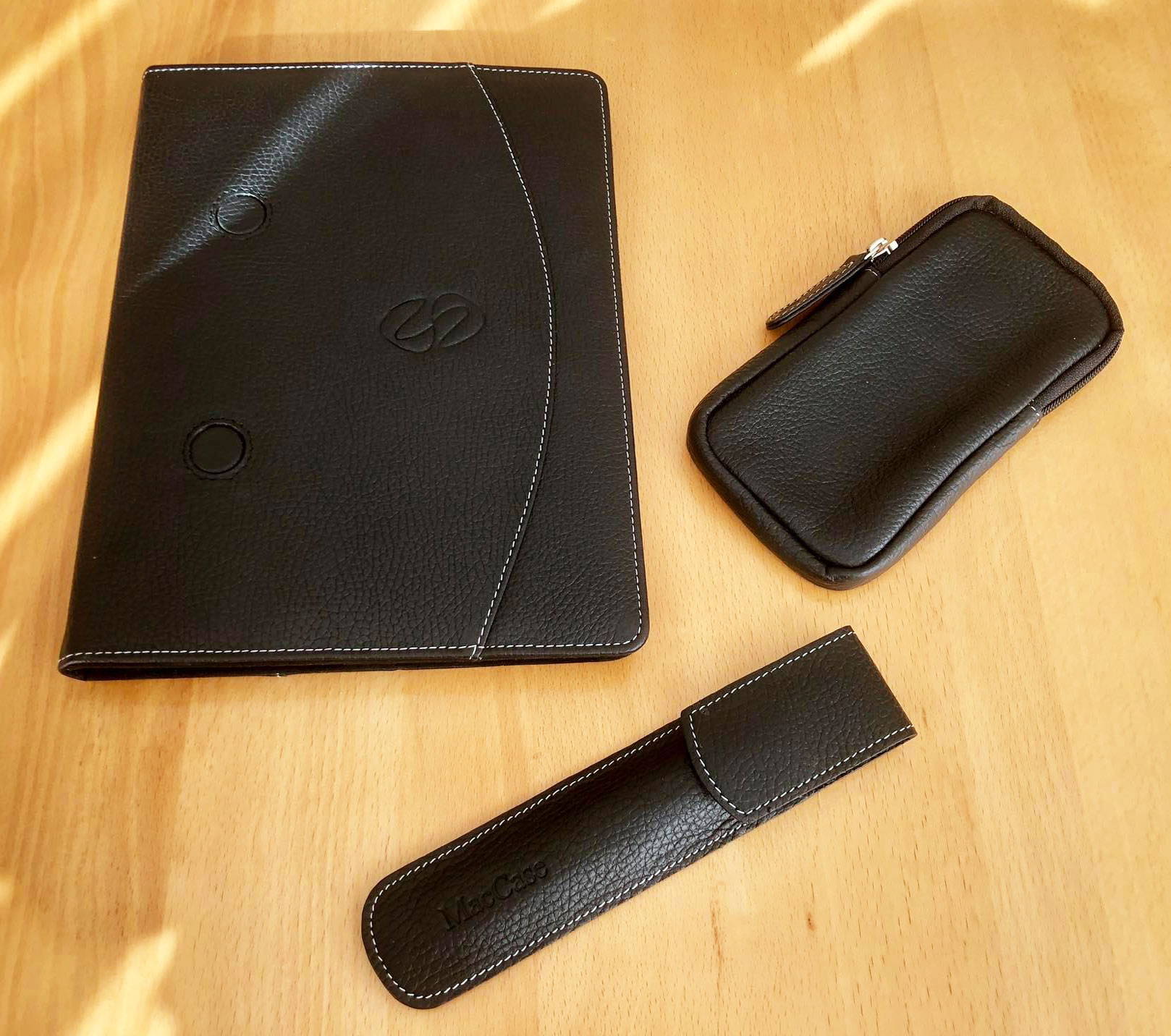 " This is simply the best case I've ever invested in. Initially was hesitant to take the plunge being in the UK, but I'm happy that the product has exceeded my expectations, the feel of the quality of the material is stellar. The staff are also extremely helpful and are always willing to assist with any problems, a shout out to Michael & Debbie for all the help and assurances.. This truly is a work of art and is a true companion to the 12.9 iPad Pro. Just simply delightful ;) "
- Michael Clarke London, UK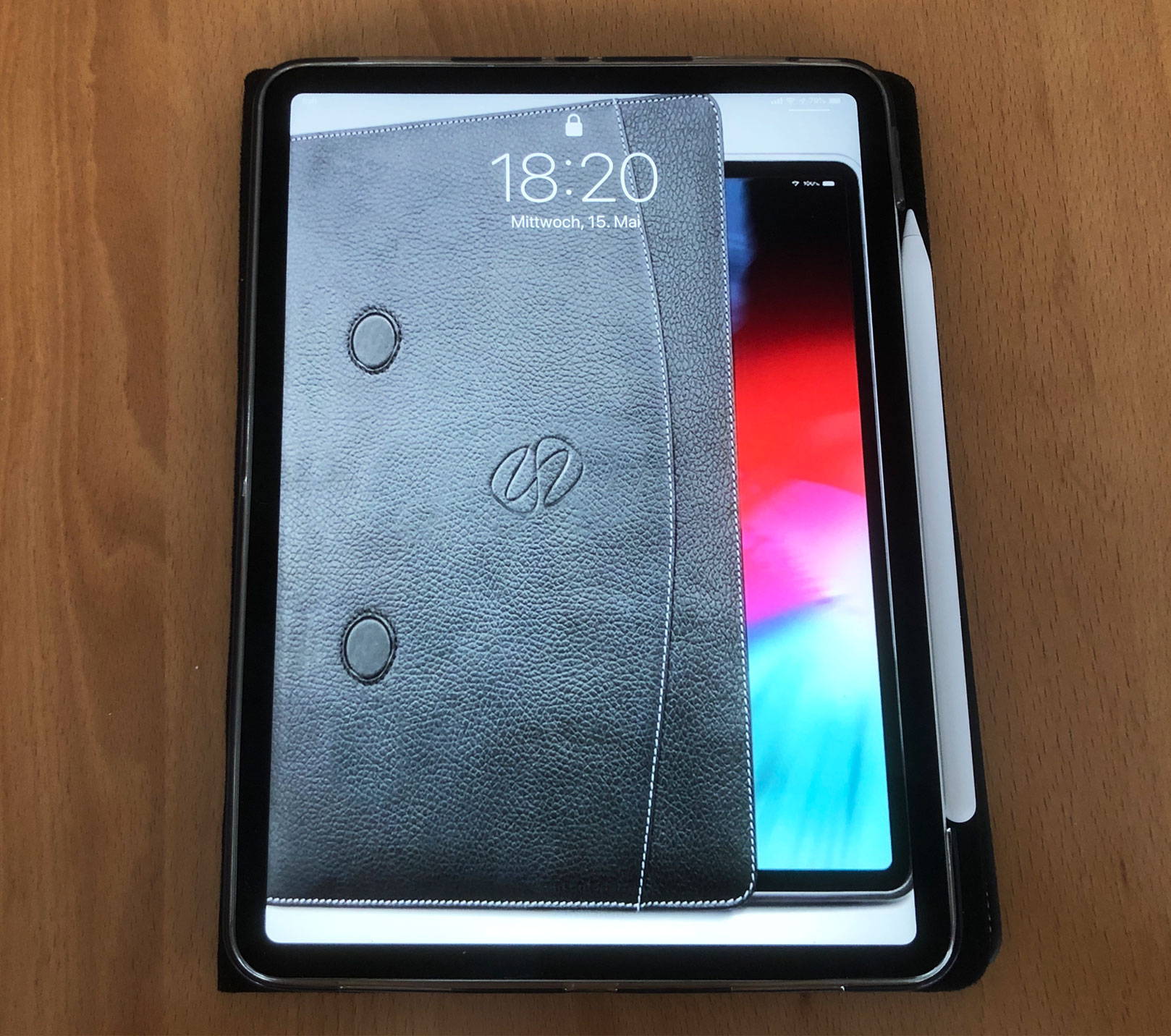 " Being a Dutch iPad Pro user from the very first start, my folio of choice has always been MacCase. The folio offers much more than everyday protection. It radiates class and style, the high class leather is a delight to see and touch, and is up to withstand the hard everyday professional use. For my new 12,9" iPad Pro 2018 trusting on MacCase again was a no brainer. The fully redesigned 2018 folio is every inch designed and built at the very high quality level I'm used to from MacCase. I trust it will be my faithful companion for the years to come."
- Kees Den Uijl Oosterhout Netherlands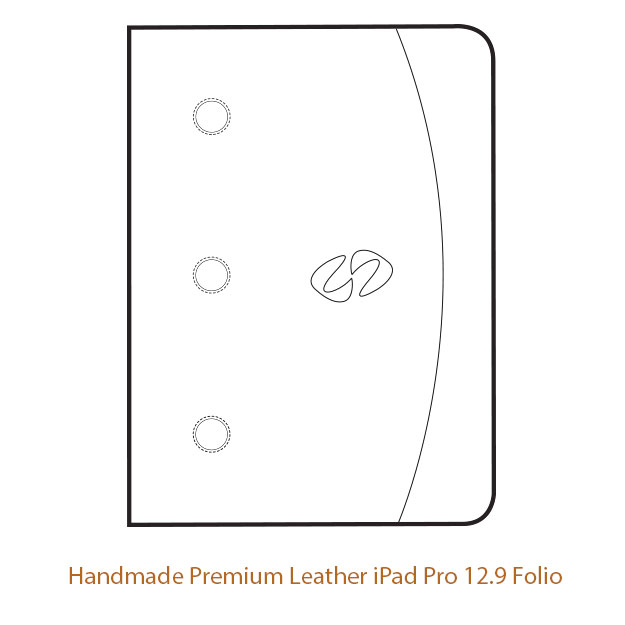 $ 169.95
Size and Weight
•11.50" x 9" x .5"
• 14 oz.
Explore The Magnetic Accessory System
You have the ability to expand the functionality of your 12.9 Folio with the 4 options shown below.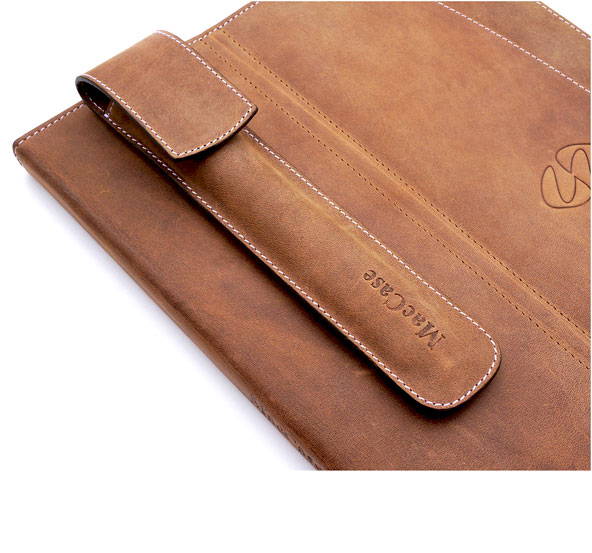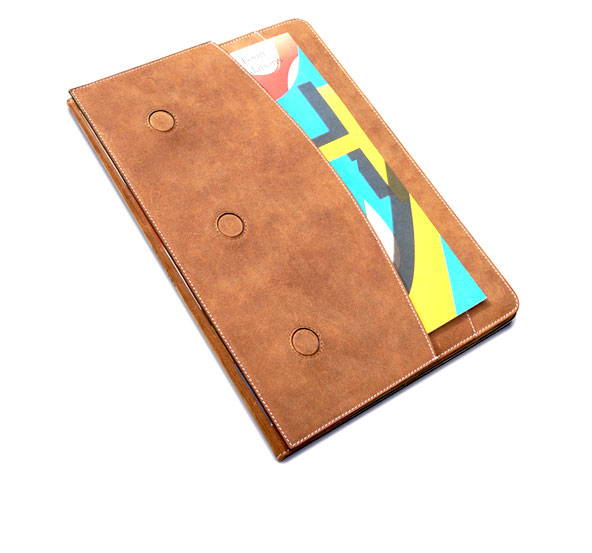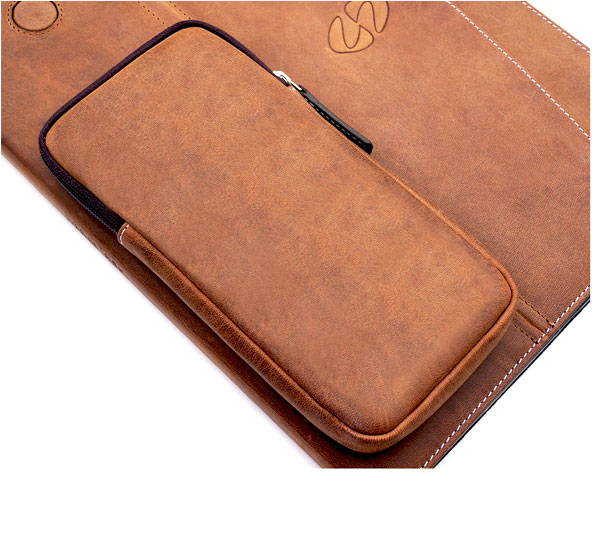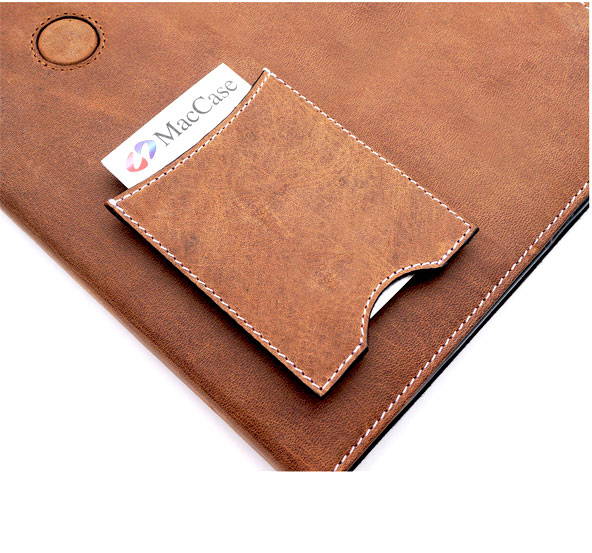 A Secured Transaction Paid Your Way
Further Reading: Creating the Best 2018 iPad Pro 12.9 Case
The latest in a series of interviews about the story behind the design of MacCase products. For this interview, we are speaking to MacCase President and Chief Creative Officer Michael Santoro about the MacCase 2018 12.9 iPad Pro case for the 3rd generation of Apple's largest tablet.
JKD- What has the process been like since the October 2018 Apple event?
MS: Very stressful. The time between when Apple makes their product announcements and when we have the products to protect them in stock and shipping are some of our most stressful days around here. It's a challenge and all the design and creative juices are flowing which is great. This is offset by the stress of not having what people want and need right now. It's not fun.
Art Takes Time
JKD: How difficult is it not to have the products ready to go when the new iPads are announced?
MS: It's hard. We've done our best to condense the process and minimize the delay. I'm sure a certain number of them believe that MacCase has some inside track to what Apple is going to do next. Let me state this once and for all, we don't, (laughing).
We find out at the Apple events like everybody else. We get the specs when they become available, buy the products when they become available and begin our design process at that time.
We do get many potential customers who realize this and ask when we'll have then new cases available. We are under the gun to get the new designs into customer hands as soon as possible. At the same time we have to design, develop, test and retest to make sure the design has no issues. Art takes time.
It would be much worse to ship a product with an inherent flaw than to spend an extra 2 weeks making sure it's perfect. But the pressure to get things to market as soon as possible is always there.
It doesn't let up until the customer has the product in hand and is using it, defect free. Hopefully that experience is accompanied by a big smile and a warm fuzzy feeling for what we have delivered. That's the dream anyway.
Choose a MacCase 2018 iPad Pro Case Because....
JKD: If someone was interested in the new case, what would you tell them?
MS: If they are looking for the best case for the 2018 12.9 iPad Pro, what we deliver is just that. If they are tired of half baked solutions from fly-by-night companies and are looking for an adult, professional solution to protect their extremely expensive Apple tablet, that is what we provide. Designing and building the best iPad Folios is what MacCase has been doing since 2010.
Our designs evolve. Each generation gets better than the the next. This is why we have some of the most loyal customers who come back to us generation after iPad generation. We've designed for all of them and the new gen 3 12.9 leather folio is a special leap forward.
JKD: For the last 8 years you've used a frame over the bezel to hold the Apple tablet in the case. The bezel around the screen has been minimized like never before. How will this affect your design?
MS: Because the iPhone tends to lead the way we had a very strong feeling that the bezels would be minimized. What happens on the iPhone will probably show up on the tablet for the next redesign. On the last iPhone, we got this special "X" model with a near bezel-less screen, no home button, etc.
For the October Apple event, we got new tablets with...... drumroll please.......a near bezel-less screen and no home button. There is a technology transfer and also a aesthetic transfer as well. Jonathan Ive keeps the look "all in the family". Visually, the devices relate across the Apple line just like they do with ours.
Knowing this was coming we planned for it by eliminating the frame around the bezel that holds the iPad in the case. We replaced it with a polymer tray and launched our keyboard compatible iPad Pro case. This has been a huge hit despite the release coming later than we would have liked.
The design works and customers have called to tell me it's the best MacCase they've ever seen and used. That is very rewarding to hear. I knew the design was special and it's great to get that kind of feedback from users in the real world.
These are people who are on their 4th or 5th generation MacCase product. They get what we do and appreciate the passion and commitment we bring to each design. For them to take time to call or email and let us know it's the best design we've ever done, that really means a lot.
Another huge contingent of the customers who have purchased the keyboard compatible iPad Pro case are new to MacCase, new to the brand. Exceeding their expectations has also been one of the highlights of the year so far. After 20 years of doing this, it feels great to bring new people to the brand with a home run design.
How Did The 3rd Generation iPad Pro Case Come To Be?
JKD: What was the process that lead to the 2018 iPad Pro 12.9 leather case?
MS: At first I thought we'd just do the same design for the 2018 Apple tablets. But a strange thing happened on the way to doing that. We spent a year developing the tray design and making it work with the gen 1 and gen 2 12.9 as well as integrating it into the Apple keyboard cover. There was a serious investment there, emotionally and financially. The last thing I wanted to do was abandoned all that effort and cost.
People often ask me what I do and I describe myself as a "design entrepreneur". At it's core, MacCase is a design company. People pay $150+ for one of our iPad cases because they are better than what's out there and they are better because of the design. They're smart and smart people like to use things that acknowledge their intelligence. Our designs respect our customers.
Part of the label of "design entrepreneur" is entrepreneur. To me that means not being married to any one thing regarding how the company operates. If there is a better process to do something, whether it's manufacturing, how we process an order, create our designs, that change needs to be embraced. In a lot of ways, we'll still feel like a start up.
I learned about Kaizen in the car industry and have used the philosophy for 20 years at MacCase. When I sat down to pen the 3rd generation 12.9 iPad Pro case, I had a Kaizen moment. I saw a better way to do the new leather case. I spoke to my lead engineer and production director about it and we all agreed it was the way to go.
JKD: So I take it you're not going to tell us what this breakthrough moment produced?
MS: Not yet. All I'll say is it's something we've never done before.
JKD: What can customers expect from the design then?
MS: Because we are a design driven company, for us design doesn't stop at the appearance or the materials. At this point we are well past that. We're designing the user experience. That is what we did with the keyboard compatible cases and it shows. Customers are literally emotional once they get their tablet in the case and start using it. That's not an accident.
It's funny because when I first started using the keyboard folio, I had the same experience. I was walking around my house watching a Formula 1 race with the 12.9 keyboard folio unfolded in my hand like a serving tray. It was perfectly balanced and felt light and airy which for the 12.9, it's an amazing feet. It never feels that way. Thats' a big piece of glass!
Then a minute later sat down to type an email. The whole experience was seamless and flawless. It's like the case knew what I wanted to do next and way ready. It's wasn't fighting me. I was working with me in way that I had never experienced with a tablet before. I thought, " Yeah, this is going to work".
JKD: So how do you do that? How do you design the user experience?
MS: That's a trade secret. (laughing)
Customer Driven Functionality
JKD: Tell us about the aesthetics of the case. Why will it look the way it does?
MS: Just like with car design, over the last 20 years we've built an extremely strong brand equity with the visual vocabulary of the Premium Leather Collection. MacCase products only look like MacCase products. They're original, timeless, yet fit a contemporary aesthetic. We've talked about this before. It's extremely hard to consistently produce designs that walk this fine line.
We took this aesthetic that expressed the craft, the making of something and combined with customer driven functionality. MacCase leather cases are not just a single piece of hide folded around your Apple tablet. Our designs are akin to classical music. There are themes and sub-themes, a narrative. They endear themselves to their owners because of this sophistication.
The new Folios carry that forward. The art is combining that sophistication with a elegant solution for expanding how customers interact with their cover and what they can do with it. This combination of the art and craft married to seamless functionality is a very strong part of the new case for 2018 12.9 iPad Pro.  
JKD: Let's talk about the options. Can you go over what's available?
MS: The options are the same as the keyboard models. The ever poplar Apple Pencil holder or pencil case, the document or paper holder, a pouch for cables and adopters and a business card holder.
I think one of the key things to remember is that, yes the accessories work flawlessly with the case. But they also work flawlessly with each other. There is a organic quality to using them. Even the aesthetics are harmonious. It's so much more than sewing a pouch to the front cover.
JKD: What has the feedback been on these options since customers have been using them?
MS: Customers have been asking for expanded functionality for years and they are working perfectly on the models. Again, we could have sewn all these little pockets to the front and back of the case but that is not the MacCase way. There is nothing innovative about that and it looks terrible too. What we've come up with is something truly groundbreaking and elegant. It's part of what makes the 2018 iPad Pro 12.9 case the best of it's kind.  
JKD: Thank you again for your time.
MS: It's always a pleasure Jody.