Looking for a Great iPad Pro 12.9 Leather Case?
Meet Our 12.9 iPad Pro Flight Jacket
Are you searching for the best iPad Pro case to meet your needs and feeling like finding something of quality is getting harder and harder to do? Frustrated with the lack of intelligently designed options you've come across so far?
We'd like you to meet our Premium Leather iPad Pro 12.9 Flight Jacket. Based on a design that goes back to 2008, our iconic iPad Pro leather case has won the hearts of 12.9 users for its innovative, vertcial design, industry leading quality and integrated protection for the Apple Pencil.
People love its ruggedness, durability and timeless, professional aesthetic. Does that sound like the type of case you're looking for? Spend some time and get to know our 12.9 Flight Jacket. It's crafted with all the passion we can muster and built to stand up to real world use. Whether you're headed around the block or around the world, find out why our iPad Pro leather case is the first choice among 12.9 users who are really going places.
Why The Flight Jacket
• It's custom designed specifically for the iPad Pro 12.9, not a one size fits all case
• The vertical design moves with you, is more comfortable and more protective
• Strikes the perfect balance between enough room to get you through a day but never feels bulky
• Quality you can believe in: Handmade from some of the finest hides available
• Hands down, the best protection for transporting and protecting the Apple Pencil
• Multiple options allow for customization
• Designed by the person that created the Apple- specific case market in 1999
• Limited lifetime warranty
• Unparalleled customer service: Have a problem? Call and speak to the boss.
What Customers are Saying
( Actual customer cases shown )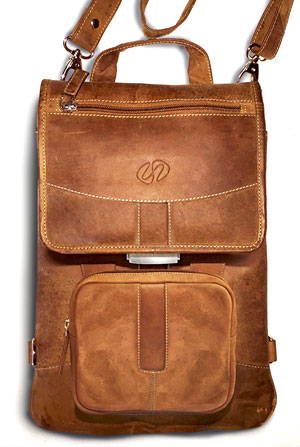 "I've had my leather iPad Pro case for a little over a year now. It gets better and better looking with each trip I take. I was torn between the black or brown. I'm glad I went with the brown. Awesome case. "
- Carlos V. Anaheim CA USA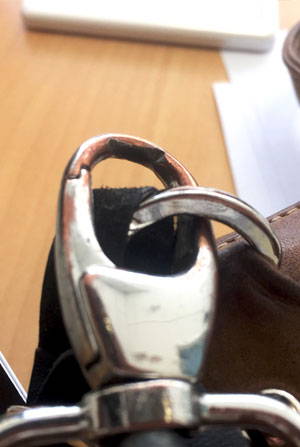 "I love the fact that the leather can be restored. This speaks to the quality of the case. It's made for the long haul. Parts may wear but can be replaced so the case endures...it's amazing. The customer service is exmplary. "
- Monica J. Montreal Quebec Canada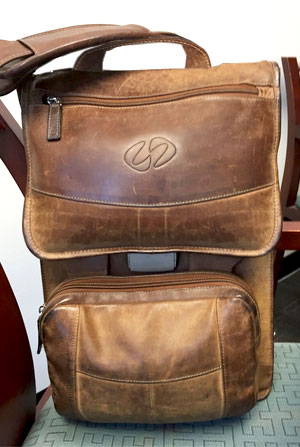 "I've never been as hard on a bag as I have been with this MacCase. I ordered mine with all the bells and whistles and it's been full on, flat out since it came out of the box. Best bag I have ever owned."
- Taylor B. Memphis TN USA
Jeff F. on Apr 20, 2018
Perfect for Surface Pro
I have been searching for a stylish and functional case for my Microsoft Surface Pro. I just received the vintage version of the MacCase Premkum Leather iPad Pro 12.9 case and it exceeds my highest expectation. The vintage leather is beautiful, soft and expertly crafted. My previous case was a leather padfolio with an outside, cramped accessory pouch. The iPad Pro Flight Jacket holds everything I had crammed into the padfolio and is far more functional. The compartments are ample and are easy to access.
The Surface Pro slides in smoothly. In addition, the second pouch holds my Kindle, Moleskine pocket planner, mouse, and charger. The business card slots easily hold business cards and a few travel rewards cards. The pen slot holds my Surface Pro pen and a multifunction pen. The zippered flap pouch holds items I need to access quickly including my passport, keys and phone. The slot on the back easily holds travel documents (e.g. boarding pass, ticket, etc.). It is amazing how much function is offered in such a beautiful, compact case. ...And it smells great! I expect to be utilizing this case for many years.
Michael K. on Nov 07, 2016
It's a Fit!
I have been carrying a bag since I was in college 40 years ago. I have been through a few of them. This bag just fits! It fits my iPad Pro 12.9 and accessories and me perfectly. The build and design quality are outstanding. The only modification I would suggest is to make the optional pouches functional on their own by adding a small hand strap so it could be carried like a book. Thanks for an impressive product!
What Comes in the Box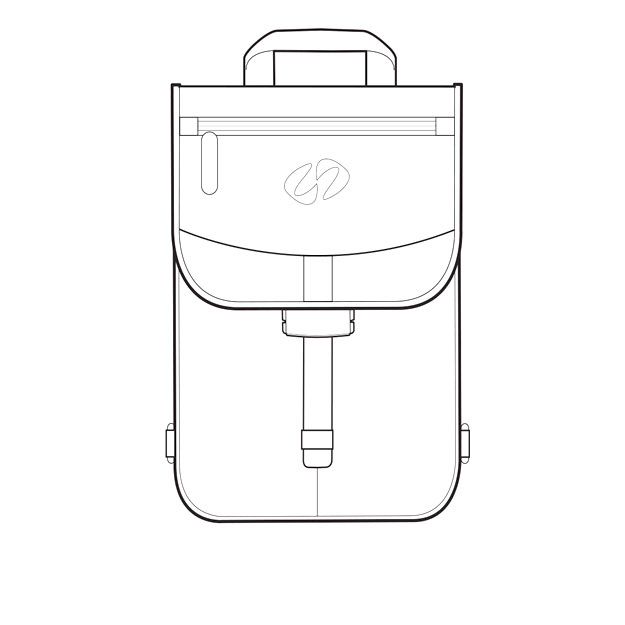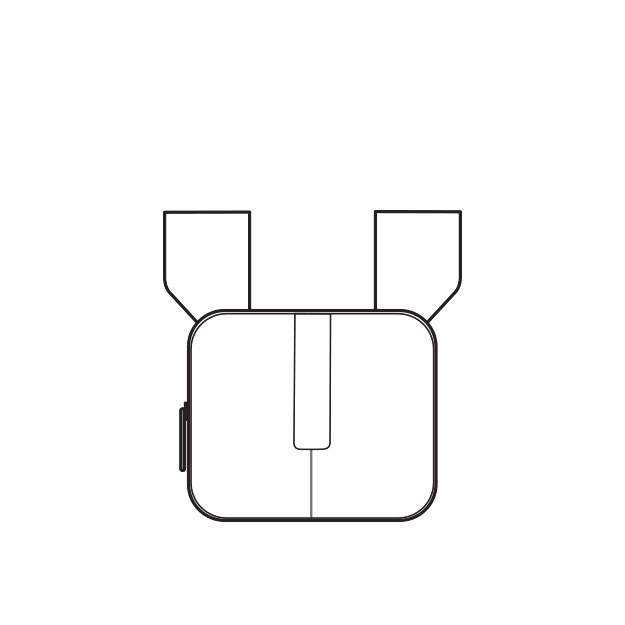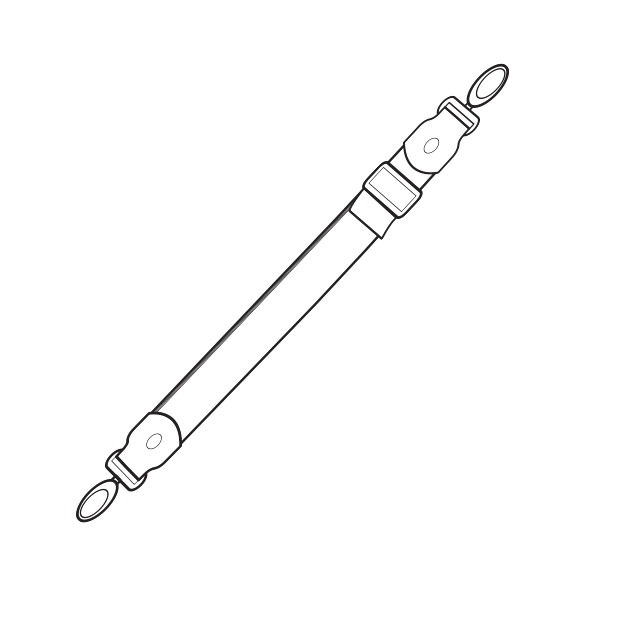 Size and Weight
• Case Body - 14" x 9.7" x .75"
• Small Pouch - 6.75" x 5.75" x 1.25"
• 22 ozs.
Explore Your Options
Choose from classic satin, pebble grain black or authentic, full grain distressed vintage brown. Our hides are the real deal, not "bonded leather" made from scraps of leather, plactic and glue.
Increase the storage capacity of your stock, removable Pouch by 50% by adding the optional Large Pouch. The Large Pouch features an internal mesh pocket to help keep you organized.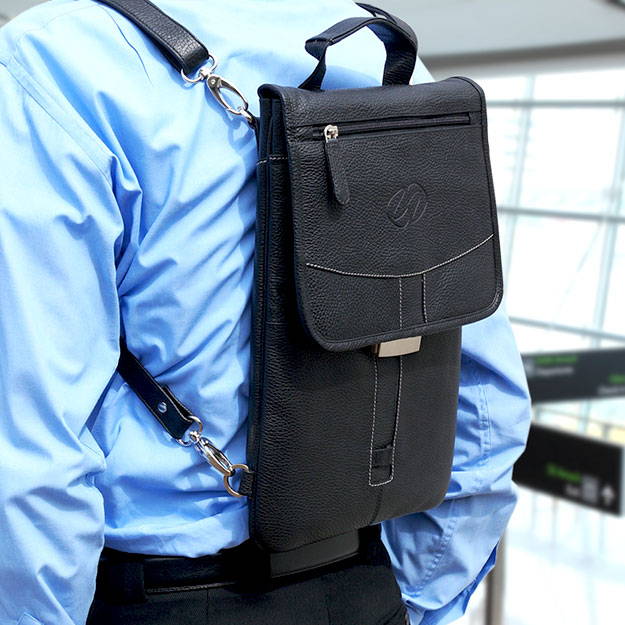 Add hands free functionality to your leather iPad Pro 12.9 case with the optional, matching backpack strap set. Each set turns your shoulder bag into a fully functioning backpack.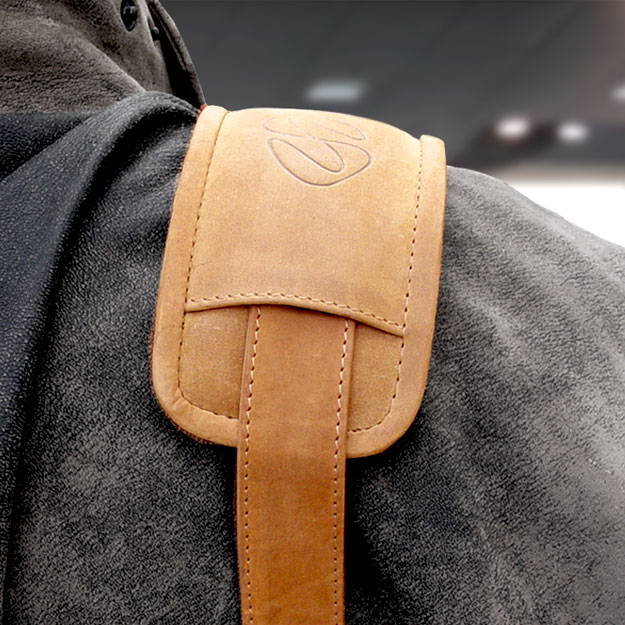 Increase the style and comfort of your Flight Jacket with the optional, matching Shoulder Pad. It's made from real foam rubber not aerated plastic.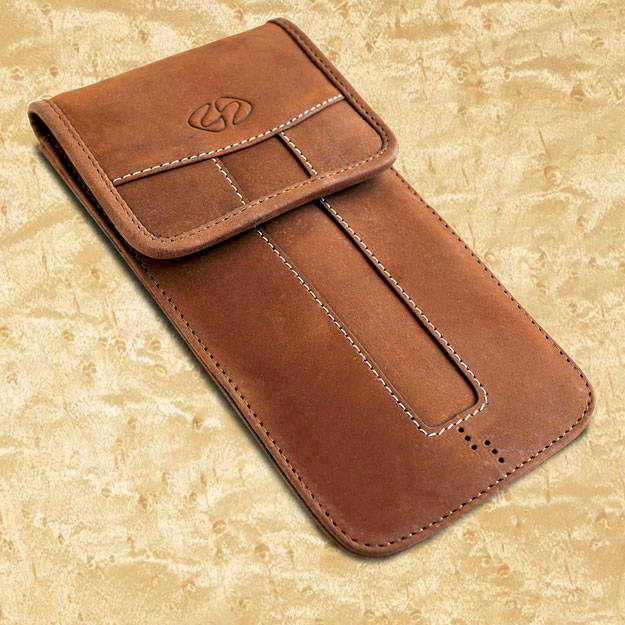 Have an iPhone? Any model iPhone will fit into to our optional, matching leather slip case. The case slides onto the shoulder strap of the Flight Jacket placing the phone right where you'd want it.
A Secured Transaction Paid Your Way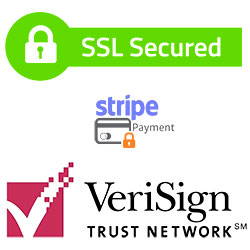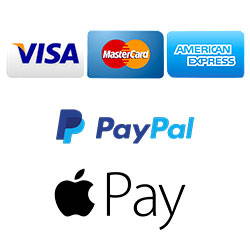 Not Sure If Our Premium Leather iPad Pro 12.9 Case is Right For You?
Give us a call during business hours: 10am - 4pm PST
760 729 0620
Or email us questions below
Thank you for your inquiry. A response is forthcoming.
This field is required
This field is required
This field is required