From Our Hands to Yours
The Story of MacCase
"The company was a few months old when we went to the MacWorld show in San Francisco for the first time. We had one product in the line. We had no idea how the Apple community was going to react to this strange design for Mac iBook case. Luckily, the response was overwhelmingly positive. It was the right product at the right time, a true blue ocean strategies moment. When we got back from the show on Monday morning the phone rang. It was Apple's legal department."
"We saw your products at the MacWorld show", the voice said flatly. "I just wanted to congratulate you. You're the first person to figure out how to use the Apple logo without getting sued. Best of luck to you."
"It was at the moment I realized we might be on to something." - Michael Santoro, President / Chief Creative Officer
You Say You Want a Revolution?
In 1998 MacCase created the Apple-specific case market with its case for the original iBook. In a world of boring black boxes, this design crashed a wave of color and style over what were then, PC-only offerings. The bold, colorful, Mac case was truly a revolution. It created a new standard of what a laptop case could be.
Shortly after, MacCase introduced a cutting-edge laptop Sleeve. It went on to become one of the most popular computer accessories of the time. As word spread throughout the Apple community, our little line of nylon Mac cases and sleeves grew to include messenger bags, backpacks, slings, and briefcases.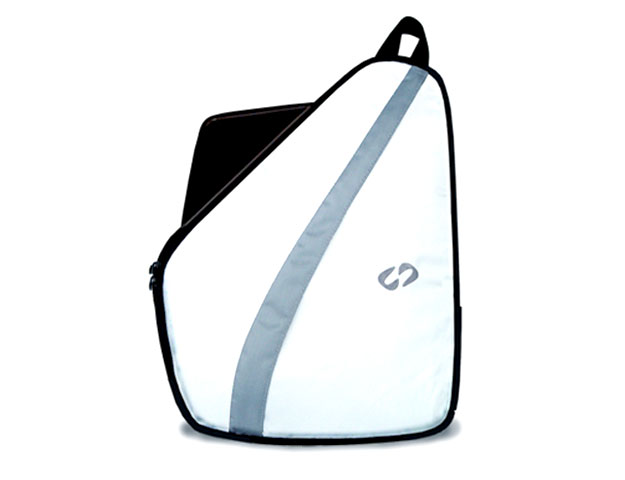 Each new product represented a clear vision of the MacCase brand values. Our mission then, as it is now, is to create original, innovative designs that place timelessness over trendiness, that are lightweight, functional and reflect a deep commitment to quality and customer service.
Both the original iBook case and sleeve featured a window that allowed the Apple logo to become part of the design. This detail might be the most copied design element in Apple accessory history. Its legacy can still be seen today, over 20 years later, in the multitude of iPhone and iPad cases and covers that have a window or cutout to highlight the Apple logo.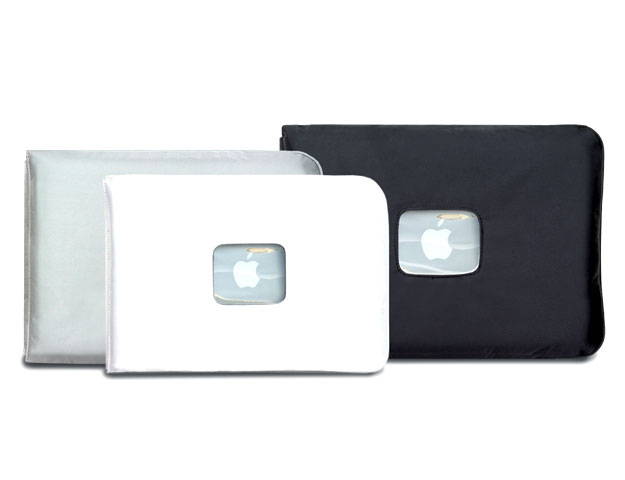 ---
As the market for Apple-specific cases grew and became crowded, award-winning, former professional car designer and MacCase President Michael Santoro, wanted to reinvent the very market he had created almost a decade earlier. In 2006 Santoro, credited by the New York Times as "One of the Designers Who Saved Chrysler" set out to do just that.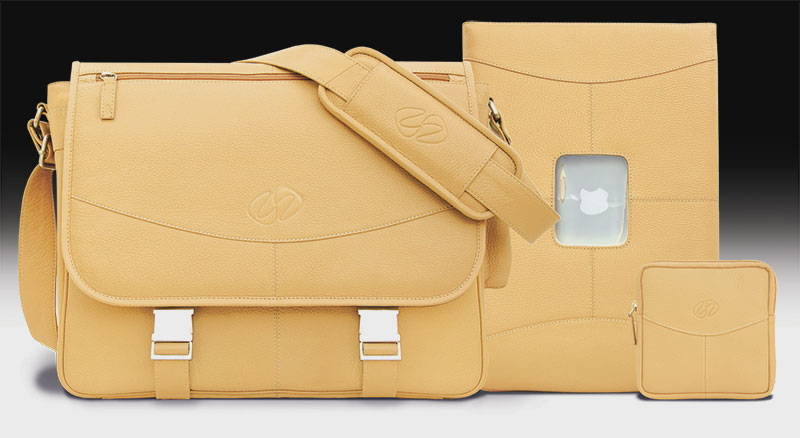 Presenting The MacCase Premium Leather Collection
"I wanted a product to juxtapose the cool clinical feel of the Apple laptops, something warm and handcrafted. Leather was the answer. " Inspiration came from many sources including Santoro's time spent designing award-winning automobiles and aircraft interiors. Dubbed "The MacCase Premium Leather Collection", the new line was a tour de force of timeless design, industry-leading, handmade build quality and exemplary customer service.
Many of the original pieces from our first production run in 2007 are still in the field today. They might be carrying an iPad Pro or a much lighter, thinner Apple laptop, a little worse for the wear, but they are still in use. This speaks to the excellent build quality, quality of our materials and the timelessness of our designs.
Exceeding the Expectations of Some of the World's Most Demanding Customers
Apple users are notoriously difficult to please. In the early days, there was your computer experience on a Mac and everything else. And everything else was pretty bad. In many ways, Apple users were spoiled. When the Mac went portable, the extremely high expectations remained. In an industry where companies come and go like the summer rain, MacCase has been designing and building the best Mac cases for nearly two decades. You survive this long because you are offering these demanding customers products that represent a substantial, fundamental value.






The Arrival of the iPad and iPad Laptop Cases
When Steve Jobs introduced the iPad to Apple's portable computer lineup in 2010, MacCase responded, building the most complete suite of both nylon and leather iPad laptop cases available. And just as the iPad has evolved over the years, so have our designs. Currently, models for the iPad and iPad Pro make up half of the models in our Premium Leather Collection. These leather iPad Pro cases are the choice of industry leaders and professionals worldwide.
One thing that has not changed is our commitment to our core values of innovative, timeless design combined with the industry's highest build quality. Whether it's our Premium Leather iPad Pro Sleeve, Briefcase, Folio or Flight Jacket, each iPad laptop case is handmade with the utmost care and attention to detail. We want you to be as proud of using your iPad MacCase as we are in designing and building them.
Two Decades of Building the World's Best iPad Pro and MacBook Pro Cases
MacCase represents the pinnacle of Apple portable protection. Our commitment to and passion for building the best cases for iPads and MacBook Pros remains unwavering. So many creative professionals who want something better continue to find their way to us. We're proud to be able to protect the devices that contain the work that means so much to them.
We are just as proud of our customer service. Not only do we have real human beings answering the phone during business hours, many times the President of the company will answer your call himself. There is no better person to assist you than the guy whose name is on the back of each and every case.
Something Truly Special - The Custom Mac Case Program
In the summer of 2017 MacCase added yet another milestone to their incredible story: creating custom Mac cases, bespoke iPad Pro and MacBook Pro cases for their most discriminating customers.
"Before I was a designer, I was a painter. In the fine art world, the best works are one of a kind, a single painting or a single sculpture. I always wanted to apply this idea to what we do at MacCase. After a long discussion on how we could make it affordable for our customers, we launched the Custom Program and have never looked back. It's been one of the most successful things we've ever done on so many levels. Were building beautiful, one of a kind pieces that are literally from our hands to yours" - Michael Santoro
With over 4800 options, MacCase can build the custom leather iPad Pro case or MacBook Pro case of your dreams.
---
Thank You from MacCase
Lastly, everyone at MacCase would like to thank each and every one of our worldwide customers who have supported us over the last 20 years. Without your continued support, MacCase and mac-case.com would not exist. You allow us to continue to dream big, take chances and put our heart, soul and passion into every Mac case we make.